I found out about Doug Gordon just from a search and discovered his
website
I emailed him and got this reply.
04-Jul-13 06:36, doug wrote:
Thank you for your email ,my apologies for the lateness in getting back to you. Since opening my studio in 2001, I have been told by numerous overseas visitors that I should write a book about all the tools, jigs, etc I make for specific jobs. Having an engineering background certainly helps in this regard, with both M.I.G and gas welding equipment in my w/shop.




I had a story in the English Woodturning Mag in Sept 2009 issue 204 about my green turning and boiling of bowl blanks which was well received. Also article about the split collars I use to hold footed bowls in a scroll chuck to take out the insides of bowls, this avoids any jaw marks which would have to be removed with a vacuum chuck, or Cole jaws.

Also photos of my miniature turning chisels in the American Fine Woodworking mag, issue number (missing) The editor asked for members who make their own tools to submit photos, well they got over 1400 replies, so did not think a woodworker down in the bottom of the Pacific would get a look in, but there you are.

Over the years I have had many comments that the 17 machines I have is far more than a woodturner needs, but I do a great deal more than just turning. Have been working on French Oak wine barrel furniture this past 18 months, have just sent the 7th Oak table to a Sydney couple last month.

These include tables, lazy susan turntables, barrel stave and barrel end serving trays, outside seats, plus many other ideas in the pipeline

The work you see on my site is not a true reflection of what I make, presently working on mounting a clock and a bowl inside the bronze cage's of large roller and ballbearings. These both came from 200mm dia shafts off big sanding machines at the huge MDF manufacturing plant 15 minutes from our home, these two pieces will certainly have that industrial/mechanical look to them.

Anyway Raymond, think I have rambled on quite long enough, my w/shop sanctuary awaits me.
I took u
p woodturning after retiring to Nelson in 1995. Wood has always been my passion and after 20 years of running my own engineering business in Queenstown, I decided it was time to rediscover the beauty and versatility of wood.
I live in the Nelson region with my partner, Robyn, and our two cats. For more information about me, read the following article.
Woodturning changed lifestyle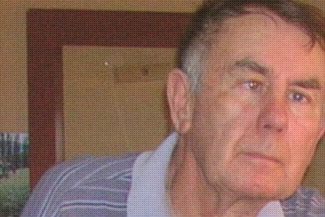 The Leader, December 11, 2003
When Redwood Valley woodturner Doug Gordon had a car accident in 1974 he was left paralysed on one side, spent six weeks in intensive care and a further seven months in hospital.
The accident meant he had to take a year off work and give up his career as a builder. Despite intensive medical treatment, he remains semi-paralysed to this day. "It has left me with a partial right-side hemiplegia," he says. "It's the same symptoms that you get from a stroke but it came from a different cause." However, he has refused to let his disability restrict his lifestyle. "You can't sit around feeling sorry for yourself."
After the car accident he realised it was no longer possible for him to be a builder. So after a recuperation period working in a hardware store, he started an engineering business which he ran for 19 years. He was based in Queenstown but says he grew tired of the way the town was developing and wanted "to get out of the rat race".
So he moved to Nelson in 1995 as his partner is originally from the city. In an effort to meet people, he joined the Nelson Districts Woodturning group soon after he arrived. "There's a certain rapport you have with people who are into woodturning." It was a decision that was to change his lifestyle. He started to devote a large amount of time to woodturning and these days he spends seven days a week working at his craft.
After becoming frustrated at his lack of success at selling his work through local art and crafts shops he subsequently built his own studio, called the Redwood Valley Turnery. He did this shortly after he moved from Stoke to his current five-hectare property in Redwood Valley.
While his disabilities slow his work rate, he still produces a prolific amount of work and carries on undeterred. "I do suffer from double vision which makes it hard to measure depth. It makes it difficult sometimes but the brain gets the right message after 30 years."
Because he has a background in engineering, he even makes many of his own tools. He is proud of both the number of different woods he works with and the variety of crafts he produces. "There's probably a bigger variety in this studio than any other studio in New Zealand." He says the crafts he produces include bowls - specifically from New Zealand silver and red beech burls - pens, clocks and wall hangings.
A Quote from Doug's site
"My philosophy in setting up a studio/workshop is the sharing of the rapport which is universal between woodturners and people who have a love of wood and the beautiful things that can be crafted from it."


Doug Gordon, Wood Craftsman
Doug is going to email photos of some of his workshop and tools I will be editing and adding these when they arrive.
Ray